The Cosmic Heart Gallery, in collaboration with The General Consulate and Trade Centre of the Argentine Republic, is thrilled to present a mesmerizing exhibition featuring the artistic talents of Florencia Aise (painting) and Julia Romano (digital collages). This extraordinary showcase is an amalgamation of two distinct yet harmonious artistic journeys, that invite viewers to explore the world through hyper-realistic portraits, imaginative collages, and immersive depictions of natural landscapes.
Florencia Aise: A Visionary in Hyper-Realistic Portraiture and Collages
Florencia Aise stands as one of the most influential and representative plastic artists in the Latin American art scene. Her body of work is a testament to her remarkable talent for creating hyper-realistic portraits that transport viewers into the realms of human emotion and experience. Aise's meticulous attention to detail, use of color, and profound understanding of the human form provide a rare and intimate insight into the subjects of her art.
Florencia's ability to use different mediums in her work adds even more depth and complexity to her art. By incorporating various materials and techniques, she can create a rich and multi-dimensional experience for viewers, further enhancing the intrigue and immersion in her artistic world.
Aise's hyper-realistic portraits are not mere reproductions but windows into the very souls of her subjects. Each piece is infused with a profound sense of presence, allowing viewers to connect with the emotions and stories that lie beneath the surface. Her paintings are a fascinating blend of various elements, weaving together fragments of the world to construct new narratives and meaning. Aise's art invites us to reflect on the intricate and often fragmented nature of our own lives and the profound beauty that can be found within them.
In Florencia's painting, the depiction of grapes also takes center stage depicting the lush vineyards in the area which she lives in. The grape clusters in rich colours also portray a beautiful interplay of light and shadow.
Julia Romano: Exploring the Beauty of Natural Landscapes
Julia Romano, in stark contrast to the hyper-realism of Aise's portraits, takes viewers on an enchanting journey through the beauty of natural landscapes. Romano's digital art is an invitation to embrace the raw, unspoiled essence of the world and to immerse ourselves in the splendor of the Earth's diverse terrains. Her works inspire us to pause, appreciate, and reflect on the magnificence of our environment.
Romano's compositions are not merely visual representations of natural landscapes but serve as pathways to self-recognition and a deeper connection with the territory. Through her art, she encourages us to find our place within these landscapes, to explore the interconnectedness between nature and ourselves. Her pieces provoke a sense of wonder, inviting viewers to embark on an introspective journey as they engage with her evocative art.
"This exhibition highlighting Florencia & Julia's creations is a celebration of artistic diversity and a tribute to the boundless possibilities of artistic expression. Aise's hyper-realistic portraits unveil the intricate layers of human emotion, while Romano's natural landscapes ignite a sense of wonder and introspection. Together, these two remarkable artists take us on an inspiring voyage through the realms of beauty, emotion, and self-discovery. This exhibition is a testament to the power of art in uniting individuals, transcending boundaries, and shaping our collective understanding of the world." says curator, Jalpa H Vithalani.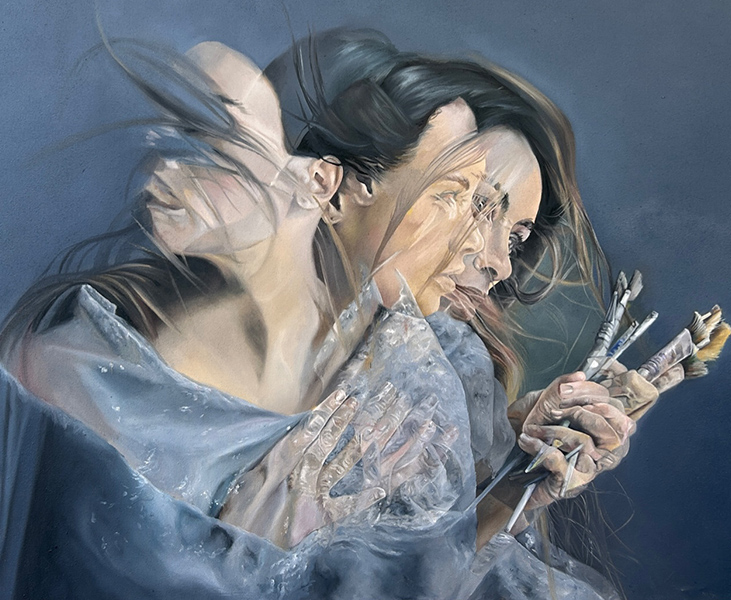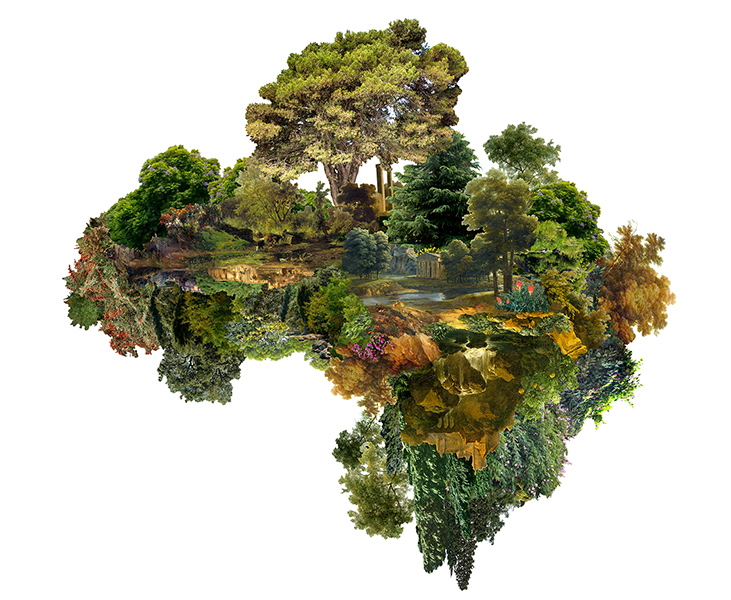 ABOUT FLORENCIA AISE
Florencia Aise has obtained her degree as an industrial designer from the National University of Cuyo. Her vocation is painting, and she dedicates herself completely to it. She is one of the youngest plastic artists, the most influential and representative of Latin America for her impressive hyper-realistic portraits and collages of the world.
The trend of her painting is inspired by hyperrealism, focusing on the simple beauty of things. In her work, social reality and the role of women are always present. Regarding the hyperrealistic work, she painted grapes as a primary element of their place of origin and to show their various meanings.
Florencia´s work has been exhibited, among other cities, in Barcelona, Buenos Aires, London, Madrid, New York, Rome, and Art Basel Week in Miami. She was considered by Forbes magazine as one of the most promising young women under 35 in Argentina.
"I consider that my art has several messages, on the one hand I represent the grape as mother and creator in our culture and on the other hand with portraits and especially self-portraits, I represent the struggle of women in a society in which we were despised and silenced. I represent women as mothers, creators and makers of humanity… in short, with my work I speak of giving life."says Florencia Aise.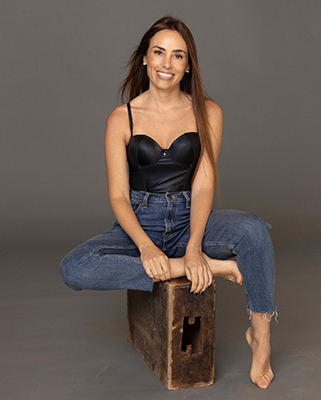 ABOUT JULIA ROMANO
Julia Romano studied art at the National University of Córdoba and graduated as a professor with a Bachelor of Fine Arts with a specialty in engraving.
Her artistic research focuses on questioning and wondering about the way each person recognizes and experiences the territory. She is interested in the landscape´s studies and its representation throughout the history of art, reflecting one's own landscape through personal stories. Her works are digital collages made up of photographic and pictorial images, freehand drawings, and scans of botany books. She also develops installations where she recreates part of her garden through videos, photographs, objects, texts, and sounds.
Julia has participated in numerous exhibitions, salons, and fairs at the national level in Buenos Aires, Catamarca, Córdoba, La Rioja, Neuquén, Salta, San Juan, Santa Fe, and Tucumán, as well as internationally in Africa, Brazil, Belgium, Colombia, Chile, China, Spain, the United States, France, India, England, Italy, and Peru. Her work is part of important public and private collections in Argentina and abroad.
CURATOR JALPA H VITHALANI
JALPA H VITHALANI is a businesswoman, artist, gallerist, farmer, social worker and reconnective healing practitioner.
She is the Founder and Creative Director of Cosmic Heart Gallery, a space dedicated to offering exquisite art collections. She has curated over 250 events related to art, culture and music in a short span of 10 years. Each exhibition is an all-immersive experience that feeds her belief in a world without borders. The Gallery has partnered with several organizations on the exchange of art and culture; which it considers the foundation of peaceful co-existence. The Gallery was one of the 16 international galleries invited to showcase their work at Art Bahrain Across Borders 2019, and has also made collaborations with the renowed indian Sir J.J. School of Art.
Jalpa is member of the prestigious Task Force of Arts for Business & Professional Women (BPW) International for Peace and Intercultural Understanding, the largest world organization empowering women since 1930 and present in 100 countries. She is currently the President of South Mumbai Chapter. She has been felicitated with the Times of India Women Icon Award for her outstanding contribution to Art & Social work and has been recognized with the Women Empowerment Principles Leadership Award by AsiaOne 2020-21, CNBCTV18 & United Nations Development Programme (UNDP).