We perceive art in many ways and our ability to do so depends upon several variables—our experiences, our exposure to culture, and essentially our innate sense of knowing. This has often led art to be an exclusive sphere that sometimes faces the challenge of not reaching many.
Today, the times are rapidly shifting to a place where art is becoming more and more approachable, and the sphere is expanding exponentially to cater to all perceptions. The platform of digital mediums, artificial intelligence, and technology have played a role in bringing forth art as an industry that can be consumed & experienced by all.
This digital intervention has also brought with it fresh inspiration for artists across the board to create art that is impactful both in person and online. So much so that we see a huge surge in optical art, 3D art, AI art, and more.
With our newest curation, we bring you an artist who is no novice! Ghanshyam Gupta has been a celebrated part of the art world for over 3 decades and continues to amaze and reel in audiences from across the globe. Known for larger-than-life works that are often puzzling, Gupta is a master of optical art who pushes the limitations of human perception.
His abstract masterpieces beckon you into a world where colors pirouette and shapes entwine in an intricate dance. Gupta's vibrant canvases pulse with life, using a playful palette of vivid hues, drawing you into their optical magic. Within his works, concentric circles and geometric symphonies seem to breathe and sway, a testament to his mastery. Unlike the visual intensity found in the works of celebrated pioneers, Gupta's art radiates a serene and poised elegance, that leaves a lasting impression.
These pieces propel the audience to step into the realm of imagination or the qualitative unknown that feeds creativity, innovation, and inspiration. This realm that exists is simply the ether. It is unseen but surely felt. It is where the elements of the universe interact, react, and create life as we know it. The show — The Optical Odyssey — throws light upon these unseen interactions among even the tiniest atoms and their glorious impact upon the world.
Through his pieces on display, the artist attempts to create a dialogue between the audience and their own unique perceptions and make them aware of the cosmic interactions all around them. He does so by using a vivid color palette, the principles of sacred geometry, moiré patterns, and repetition to create an experience that is transportive.
The superimposing of two patterns create depth & dimension, the contrasting hues piquing your interest, repeating threadbare linework and concentric circles, and the use of spheres to create the illusion of movement.
You will also notice spending a while at each painting, peering at them closely as if to discern the reality of them. And therein lies the true intent of the show, the act of you making the art your own, and lending it your unique perception as a cloak to don only in front of you.
In the tradition of visionaries who've explored visual mystique, Gupta's art challenges your perception. His creations are not mere observations but mysteries waiting to be unraveled, an invitation to traverse your own interpretations. Come witness the power of your own perception and enjoy the puzzling beauty of optical art by Master Ghanshyam Gupta.
View Artworks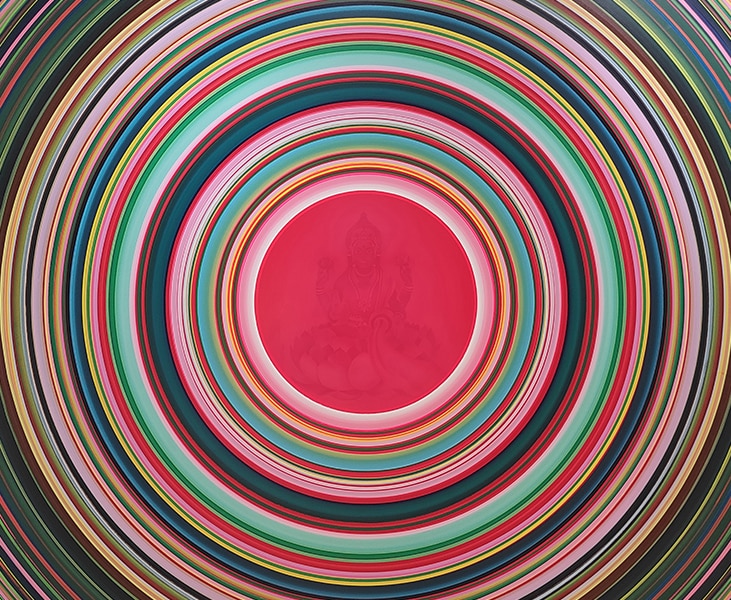 ABOUT GHANSHYAM GUPTA
Ghanshyam Gupta is a renowned abstract artist whose mesmerizing creations fall within the intriguing realm of optical illusion. Drawing inspiration from his earlier life experiences, Gupta's art is a symphony of visually stimulating colors and abstract forms, transcending mere aesthetics to become a form of color therapy in its own right.
One of the pivotal moments in Ghanshyam Gupta's artistic journey was his participation in the London Original Print Fair at the Royal Academy of Art in 1997. This prestigious event brought him alongside some of the greatest artists in history, including luminaries like Lucian Freud, Pablo Picasso, Paul Cezanne, Edward Munch, Henri Matisse, Rembrandt, and Albert Durer. It was here that Gupta's work began to shine as a testament to his artistic prowess.
Furthermore, Ghanshyam Gupta's art found its place in the world of video-based installations, where his unique vision contributed to an exhibition curated by The Art News Magazine and Chemould Gallery at Max Muller Bhavan Kala Ghoda. His work graced this platform alongside the creations of other notable artists.
Gupta's artistic excellence has been recognized with prestigious awards, solidifying his place in the pantheon of great artists. He received the Nordsten Award for the Best Print of the Year from the London Original Print Association, a testament to the exceptional quality of his printmaking. Additionally, he claimed the Art Museum Award Winner title at the Tokyo International Mini-Print Triennial in Japan in 1998, further establishing his international reputation.
Ghanshyam Gupta's artistic journey is anchored in a strong educational foundation. He earned a master's degree in printmaking from the Royal College of Art in London in 1997, during which time he was honored as an Inlaks Scholar. His academic journey began with a bachelor's degree in Fine Arts from MS University Baroda.
With a career marked by notable exhibitions, accolades, and a commitment to the evocative power of abstract art, Ghanshyam Gupta continues to captivate and inspire with his intricate works of optical illusion and color therapy. His art resonates with those who appreciate the transformative potential of abstract creations.
CURATOR'S NOTE
"The artist attempts to create a dialogue between the audience and their own unique perceptions and make them aware of the cosmic interactions all around them. He does so by using a vivid color palette, the principles of sacred geometry, moiré patterns, and repetition to create an experience that is transportive. A mesmerizing exploration of color and illusion, the show is a symphony for the eyes, transcending the boundaries of traditional art, offering viewers a unique experience that lingers in the mind long after you've looked away." says Jalpa H Vithalani.