Cosmic Heart Gallery & Princess Diya Kumari Foundation in association with Ranthambore School of Art proudly present EYE OF THE TIGER
Cosmic Heart Gallery & Princess Diya Kumari Foundation in association with Ranthambore School of Art proudly present EYE OF THE TIGER. Foretelling pictorial tales of his mightiness. Art which showcases regal beauty in motion.
This magnificent animal represents and symbolizes primal instincts, ability to trust yourself, dealing with life matters spontaneously and acting fast with a vision and focus. He also stands for will power, personal strength and courage.
"I was moved when I saw the talent and here we are talking about supporting 500 odd artists associated with the school. We have curated the show in a unique way, presenting this magnificent animal in more ways than one. Each painting is like a photograph; that is how alive & detailed the compositions are and how beautifully the tigers have been brought to life. This itself speaks volumes of the talent!" says Jalpa H Vithalani, Creative Head and Director, who has curated the show.
"Princess Diya Kumari is beautiful inside out and it is a privilege to have the Princess Diya Kumari Foundation onboard this prestigious project. We have the vision and aim to support the artists and the school, to create an awareness on wildlife conservation and bring this stunning art into millions of homes."
"The paintings and concepts are truly breathtaking. There is simplicity and sharpness which strikes you & this Art Deco collection 'Eye of the Tiger' will add that special element to many spaces."
"It is our endeavor to have a painting adorn every home and with beautiful, affordable art, this truly translates into a reality." concludes Jalpa H Vithalani.
View E - Catalogue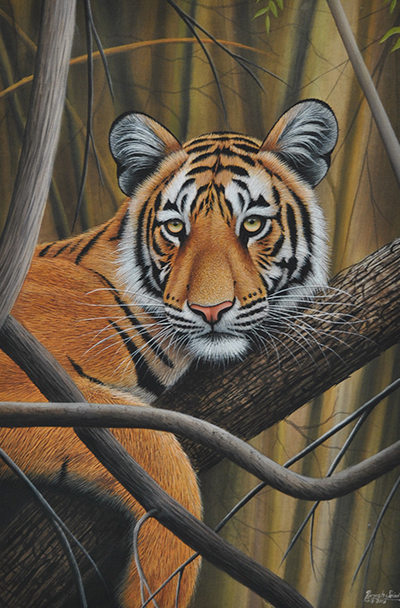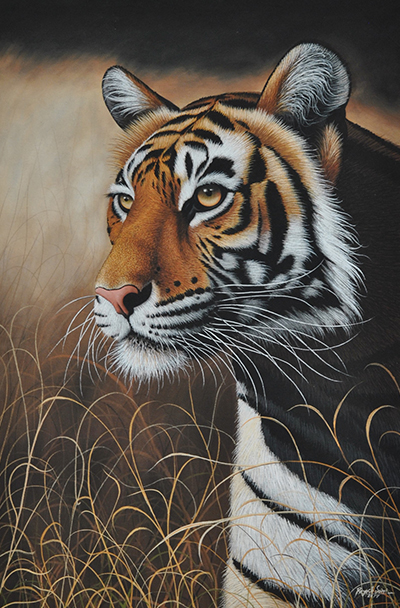 ABOUT PRINCESS DIYA KUMARI FOUNDATION
The Princess Diya Kumari Foundation (PDKF) is a philanthropic social outreach initiative of Princess Diya Kumari of Jaipur. Princess Diya Kumari of Jaipur, MLA Sawai Madhopur, is the Save the Girl Child Ambassador for Rajasthan State.
A businessperson and philanthropist, Princess Diya has been active in the fields of tourism, hospitality, and education. After having had great success in these fields, she embarked on this new charitable initiative, aimed at inclusive development and the upliftment of the underprivileged in Rajasthan, with a strong focus on women and girls. PDKF is making efforts to empower people by ensuring sustainable livelihoods, facilitating improved standards of living, and creating a healthy socio‐economic environment. The Foundation is committed to making a positive impact at the grassroots level through engagement with, and the empowerment of deprived communities in the state.
Since its inception in 2013, PDKF has continued to expand its activities, with most projects focused on Jaipur and Sawai Madhopur. The organization aims to achieve its goals through direct action and by mobilizing and training local communities. It also functions as a catalyst by partnering with other donors, foundations, non‐ governmental organisations and government institutions, to facilitate their work and explore best‐practice solutions and innovations for development. With these collaborative ventures, PDKF creates synergies that facilitate the most cost‐effective and sustainable impact and ensure lasting change.
THE RANTHAMBHORE SCHOOL OF ART
The Ranthambhore School of Art located near Sawai Madhopur consists of painters from local villages. The main subjects of their paintings are the majestic tigers of Ranthambhore.
Ranthambhore School of Art was founded in 1987. It's aim is to promote and support wild life and habitat conservation, bio diversity, sustainability and environmental education through arts that celebrates our natural heritage.
The Ranthambhore School recruits students from the surrounding villages and towns. The aim is to keep the beautiful image of the tiger alive in the minds of everyone; especially regarding the importance of this magnificent animal's survival. The school also goes into villages and gives demonstrations and talks. They say the most encouraging factor is the response from young children. These children then obviously go back and influence the minds of those in their respective homes. They are also the future conservationists in the making.
The Ranthambhore School has been invited to hold exhibitions all over the world, and their contribution towards conservation has been recognised by NGOs and animal protection societies of Ranthambore and the country.
ABOUT COSMIC HEART GALLERY
Cosmic Heart Gallery is an art space with a difference offering an exquisite collection of affordable art that will touch your soul. The gallery has successfully hosted & partnered with over 90 meaningful events in a short span of four years. It is our passion and vision to touch the innate sense of creativity of every person whose path we touch, bringing beautiful gifts of co‐creation from the world of art, sound & healing into peoples' lives. Each event & exhibition is curated with a strong underlying message, since the gallery is on the evolutionary path to touch people's lives via the medium of art.